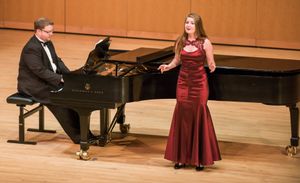 Biography
Vocalist and vocal pedagogue Dana Pirzchalski is located in Nashville, TN where she is currently working on her Master's of Music degree in Vocal Pedagogy at Belmont University. Since moving to Nashville, Dana has begun teaching as a vocal coach at Nashville Vocal Studio on Music Row. Dana comes from Baltimore, MD where she received her Bachelor of Arts in Vocal Performance from the University of Maryland Baltimore County. During her undergraduate studies, she sung the partial roles of Adele in Die Fledermaus (2018), Despina and Dorabella in Cosi fan tutte (2017), Juliette in Romeo et Juliette (2017), Dame Carruthers in Yeomen of the Guard (2016), and Pitti-Sing in The Mikado (2016). Dana has also been a featured artist in music festivals such as the Bethesda Summer Music Festival where she sung the role of Barbarina in Mozart's Le nozze di Figaro as well as New England Conservatory's Opera Studio where she performed Maria Corona in Menotti's Saint of Bleecker Street and Vera in Hoiby's Natalia Petrovna. In addition to her performance roles, Dana has built recital programs showcasing composers from the Baroque to early Modern eras. 
As a child, Dana was involved in many musical activities singing in a church choir, playing clarinet in the school band, and performing in talent shows in the area. At the age of 13, she began writing songs and teaching herself to play guitar and piano. While her passion for music continued to grow, it wasn't until Dana was in her second year of undergraduate studies that she began taking voice lessons with Professor Janice Jackson and fully committing herself to studying music and the voice.  
Since then, Dana has employed her knowledge and experiences to help others by teaching voice, piano, and composition to students privately. Most notable is her volunteer work for the non-profit organization We Rock DC! and Girls Rock Campaign Boston, where Dana teaches the voice class, coaches bands, and organizes songwriting and stage presence workshops. Dana is currently making music for her debut solo project and conducting research for her thesis on teaching students with ADHD and dyslexia, set to be published in the Spring of 2021!